Leah Ward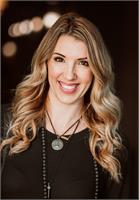 Leah grew up playing soccer, tennis, running and riding horses. After years of physically demanding sports and playing soccer in college at WVU, she had sadly accepted a fate of potentially never having any flexibility. Once Leah moved to Raleigh from Washington DC in late 2013, she discovered Barre Up and it didn't take her long to fall in love with everything the studio stood for. In early 2014, she decided to challenge herself and become certified to teach Buti Yoga, helping Barre Up become one of the first prominent studios to offer these empowering, strong classes for women around the triangle area.
Leah has since been able to become immersed in her passion for motivating and helping all levels achieve their own individual goals and is continuously inspired by the magic that Barre Up brings to the community. Her quirky, upbeat personality and always interesting 'Rhythm and Poetry' music choices are a favorite amongst our wonderful clients. If she's not in the studio, you can typically find her stop, drop, and yoga'ing around Raleigh with her corgi and camera in tow. In 2017 Leah was graciously voted among the "Best Fitness Instructors in Raleigh". She is currently 200 hr RYT Buti, Buti Flow, Vinyasa, Hot Core/Sculpt and Barre certified.
Leah Ward instructs the following:
This Buti Flow class incorporates all the energy, hip and shoulder opening of Kundalini based Buti yoga, with less explosive plyometric and dance choreography. This is a great way to introduce Buti into your routine.




BUTI is a female-empowerment lifestyle brand. Our signature movement fuses yoga, tribal dance and plyometrics and functions as the core of our wellness approach. Derived from the Marathi word Buti meaning "the cure to something hidden or kept secret," our goal is to guide women through movement, nutrition and wellness that supports the female spirit — transforming lives from the inside-out. ™




Challenge your deepest core muscles with this 45 minute blast. We'll spend 20 minutes focusing on core muscles + 20 minutes on interval cardio + yoga holds. We'll finish with a well-earned and relaxing savasana.




Barre Up classes combine the intensity of traditional barrework, alignment and length of Pilates, and centering heart-opening yoga to tone and strengthen your body from the inside out. Our method supports your active life outside the studio with a strong core, better posture, and a calm mind.




This lunchtime Buti sampler will help you shake off your office and return energized and refreshed - and ready to tackle the toughest task (or person). This is a Flow class, so you will not need a shower after ;-)




All the benefits of a regular Buti Yoga Class, wrapped up in a 45min Express workout!