Leah Ward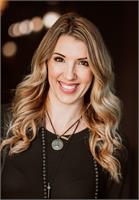 Leah Ward instructs the following:
Barre Up classes combine the intensity of traditional barrework, alignment and length of Pilates, and centering heart-opening yoga to tone and strengthen your body from the inside out. Our method supports your active life outside the studio with a strong core, better posture, and a calm mind.




BUTI is a female-empowerment lifestyle brand. Our signature movement fuses yoga, tribal dance and plyometrics and functions as the core of our wellness approach. Derived from the Marathi word Buti meaning "the cure to something hidden or kept secret," our goal is to guide women through movement, nutrition and wellness that supports the female spirit — transforming lives from the inside-out. ™




This Buti Flow class incorporates all the energy, hip and shoulder opening of Kundalini based Buti yoga, with less explosive plyometric and dance choreography. This is a great way to introduce Buti into your routine.




This lunchtime Buti sampler will help you shake off your office and return energized and refreshed - and ready to tackle the toughest task (or person). This is a Flow class, so you will not need a shower after ;-)




Challenge your deepest core muscles with this 45 minute blast. We'll spend 20 minutes focusing on core muscles + 20 minutes on interval cardio + yoga holds. We'll finish with a well-earned and relaxing savasana.