Lindsay Eldridge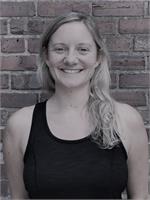 Lindsay grew up playing soccer, running and snowboarding before her passion for the outdoors brought her to work as a kayaking and backpacking instructor. She suffered from a herniated disk in 2013 and found that Pilates gave her the strength, flexibility and stability to maintain an active lifestyle. Driven by her successful recovery, she took her Pilates certification with Balanced Body, which ultimately led her to her Barre certification at Barre-Up in 2015. Lindsay loves how every exercise and pose can be modified to suit individual's needs and is excited to pass her knowledge along!
When not in the studio, Lindsay can be found traveling around NC and beyond. She loves to spend time with her husband, Ryan, and continues to find adventures to embark on with friends and family in the Triangle area as well.
Lindsay Eldridge instructs the following:
Barre Up classes combine the intensity of traditional barrework, alignment and length of Pilates, and centering heart-opening yoga to tone and strengthen your body from the inside out. Our method supports your active life outside the studio with a strong core, better posture, and a calm mind.