Byron Jennings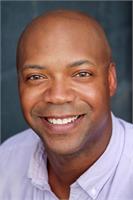 Byron is a native of Gainesville, FL who was raised in Charlotte and is a NC State graduate (Go Wolfpack!!)! He's been a law firm manager for 13 years and also does acting and modeling. Fitness and dancing have always been important to him, so 4 years ago, he decided to leap into Fitness instructing and has never looked back! Byron's excited to join the Barre Up family and to be able to "break it down" with all of you.
Byron Jennings instructs the following:
Come break it down with Byron! Not to be confused with ZUMBA, Breakdown is a calorie-burning dance fusion class that incorporates the latest music with pop, latin and hip-hop movements. This total body workout is done in street shoes and will leave you feeling completely energized. This **SPECIALTY** class is for any fitness level and a great chance to change up your regular workout routine!