Megan Lively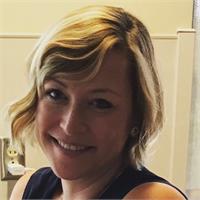 Always interested in exercise and being mindful with nutrition, and having delivered her first child in early 2013 - she didn't really have a plan to get her pre-child body back. Balancing work life and being a new mom, Megan found Barre-Up, thanks to Winter!
Megan loved training with the fantastic instructors to gain strength, flexibility and confidence.
Fast Forward to baby #2- Megan religiously went to all the classes offered at Barre-Up through her pregnancy, due date and past. Becoming an expert in pregnancy modifications (through sheer practice) at the Barre. Megan got her Pilates Meets the Barre Certification in April 2016 and was recently was certified in Buti Yoga.
Megan lives in Raleigh with her husband, 2 toddler daughters & boxer dog.
Megan Lively instructs the following:
This lunchtime Buti sampler will help you shake off your office and return energized and refreshed - and ready to tackle the toughest task (or person). This is a Flow class, so you will not need a shower after ;-)




Barre Up classes combine the intensity of traditional barrework, alignment and length of Pilates, and centering heart-opening yoga to tone and strengthen your body from the inside out. Our method supports your active life outside the studio with a strong core, better posture, and a calm mind.




Challenge your deepest core muscles with this 45 minute blast. We'll spend 20 minutes focusing on core muscles + 20 minutes on interval cardio + yoga holds. We'll finish with a well-earned and relaxing savasana.




BUTI is a female-empowerment lifestyle brand. Our signature movement fuses yoga, tribal dance and plyometrics and functions as the core of our wellness approach. Derived from the Marathi word Buti meaning "the cure to something hidden or kept secret," our goal is to guide women through movement, nutrition and wellness that supports the female spirit — transforming lives from the inside-out. ™