Julie Smith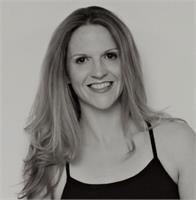 Julie has loved barre work since she was a teen. She checked out the Callanetics video so many times, that her mother finally allowed her to fail to return it!
Fast forward to an adult that needed to shape up while being mindful of old equestrian injuries, Julie discovered Pilates and fell in love. She became certified to teach in 2006, followed by full Pilates equipment and Gyrotonic certifications. She always integrated some of her old barre routines into her classes, and wanted to more fully mesh her Pilates and Barre experience. BarreAmped certification perfectly combined the precision of Pilates with the intensity of barre. The attention to detail and form allows Julie to truly educate the bodies in front of her rather than just powering through a class routine. She loves watching people re-shape their bodies and lift their spirits with mindful physical activity.
In 2013, Julie stumbled upon Buti yoga. With her kundalini-based Gyrotonic and core-focused Pilates background, she recognized the potential this movement had to break open barriers to generate strong and supple bodies. Certified in Buti yoga since 2013, Julie completed her 200RYT certification in 2015. She has also completed additional Vinyasa Flow trainings with Stephanie Keach and Tamal Dodge.
Julie lives in Raleigh with her husband, Walter, their college age son and two daughters. She continues to ride hunter jumpers, and works to create time for her high speed driving hobby with her husband at VIR.
Julie Smith instructs the following:
Barre Up classes combine the intensity of traditional barrework, alignment and length of Pilates, and centering heart-opening yoga to tone and strengthen your body from the inside out. Our method supports your active life outside the studio with a strong core, better posture, and a calm mind.




BUTI is a female-empowerment lifestyle brand. Our signature movement fuses yoga, tribal dance and plyometrics and functions as the core of our wellness approach. Derived from the Marathi word Buti meaning "the cure to something hidden or kept secret," our goal is to guide women through movement, nutrition and wellness that supports the female spirit — transforming lives from the inside-out. ™




This Buti Flow class incorporates all the energy, hip and shoulder opening of Kundalini based Buti yoga, with less explosive plyometric and dance choreography. This is a great way to introduce Buti into your routine.